I've followed a guy named Brandt Russo online for a couple of years now. Brandt lives on the streets and does whatever he can for the people he comes in contact with. He says, "I just try to love. Everyday." Brandt is a beautiful example of what it means to love like Jesus. Earlier today on Facebook he linked to an amazing article he wrote for Enoch Magazine and I wanted to share it here.
written by Brandt Russo
About a year back, I was in New Orleans with a youth group that wanted to learn how to serve the homeless. Earlier that day, they had made peanut butter and jelly sandwiches and brought apples and water hoping it would bring a smile and some hope to someone with an empty stomach. Being that I'd spent a year homeless to better understand the homeless and urban poor, I get asked often to take groups out to teach them how to love practically.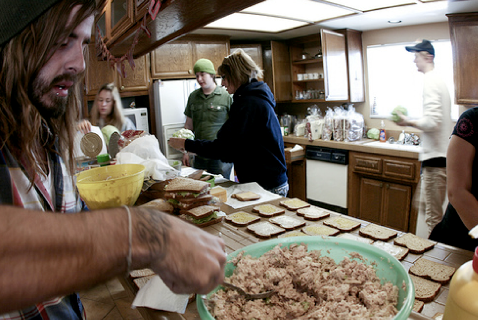 This particular time broke my heart. One of the girls from the group approached a lovely black elderly fellow we called Jazz. Jazz was about 60, and the wrinkles on his face told many stories if you stared long enough. Jazz played the sax in the French Quarter every day hoping to make enough to spend the night in the local shelter (yes they charge every night after week's free stay). "Hungry, anything helps" read his tattered cardboard sign, dampened by the morning rain. She walked up without asking him his name or how he was and handed him an apple. With a grin, he politely refused and she walked away grumbling something under her breath.
When I approached her to ask her what she was upset about, she had already started telling her friends that "all that homeless man wanted was money. He is probably an alcoholic." I asked her to walk back with me, and as I walked up to Jazz I offered him a peanut butter and jelly sandwich, and the biggest, TOOTHLESS smile came on his face as he thanked us for the sandwich. You see, Jazz hadn't been able to eat an apple since his teeth had been knocked out in a street fight twelve years back. It's incredible the stories you will hear if you take the time to get to know these beautiful, broken street people. This girl had walked away changed.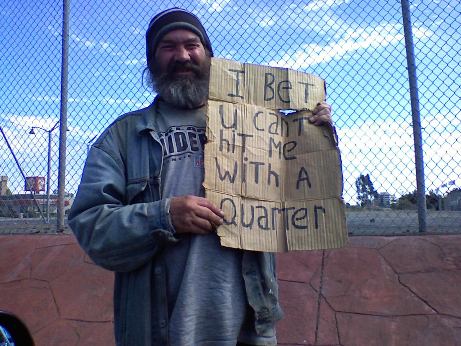 I find it simply amazing the chasm between class lines, especially in the "Christian" world. Jesus had this amazing idea that if you mix class lines, they tend to dissolve. That if we fall in love with someone's heart, they are no longer homeless in our eyes, but become family. It's a beautiful transition that happens when we take the time to extend ourselves to those whom we are "most afraid" of . If you were to take a group of kids from the ghetto camping in the woods, they would be terrified of every sound, praying not to get eaten by a bear. If we were to take a group of suburban kids to the ghetto, the same would happen (replacing the bear with a gunshot). We are all so afraid of what we don't know, and sadly, we are usually more afraid of our preconceived ideas of that fear than we are of the "fear" itself.
The media has done wonders dehumanizing the poor, so it's no wonder that we do all we can to ignore them. If you walk downtown, don't make eye contact, they say. Don't carry cash. Walk on the opposite side of the street.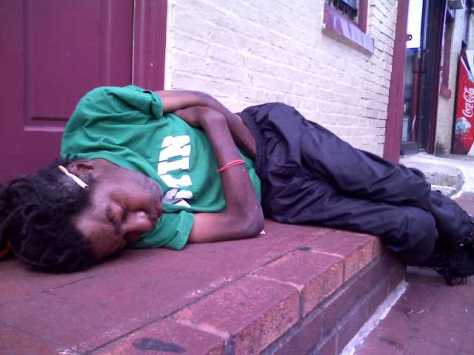 It's amazing the lengths we take to avoid the very people Jesus spent His life serving. I think what we tend to forget is that every "poor" person is somebody's loved one. A grandfather or grandmother, son or daughter. We live our lives for our own flesh and blood, and would do ANYTHING we can to fix theirbroken lives, and yet Jesus made it clear that we are ALL FAMILY.
In Genesis 1:27 (Message), it says that "God spoke: 'Let us make human beings in our image, make them reflecting our nature' ". We are all sons and daughters of the creator of this world, all as splendid as the sun and worthy of honor and love. My life has been changed, not only by the stories of these broken people, but by sharing in their joys and sufferings. I've found Jesus in the eyes of many a homeless person. We can't ignore the poor, because as Mother Teresa said, "In the poor, we find Jesus in His most distressing disguise." Be love to someone today, and find your own "Jazz." It will change everything.